We humans are a weird and funny race, we want everything quick and sometimes we want something before we even ask for it. Thats what The CEO of Samsung, Hyunsunk Kim believes. He states that human beings are entering a different "age of experience" and a different "AGE" means different experiences which we humans aren't exposed to right now. To give basis to this point, Samsung recently Introduced A small tennis ball sized Robot companion in the second week of January, this year. They Call it "Ballie" which is Samsung's Vision of how a robot friend will be for us human beings in the near future.
WHAT IS BALLIE?
Meet Ballie, an Artificial Intelligence Device which uses mobile interface, voice activation feature and rolls around the house like a normal ball but with more momentum. It follows you around and listens to your commands like a normal pet would do.The material used in this is plastic and it has an attractive texture as you can see above. It has a tennis ball shaped appearance and is said to be the size of a grapefruit. The crafting for Ballie is done by Samsung's Think Tank Team or TTT, as they call it. Ballie includes an in built camera as shown in the image above in the centre which recognises its companions and users , records the events happening around the house when the owner is away and notifies the owner about the same by sending a notification to their phones. Moreover you can talk to Ballie and it will respond in a unique way which is not entirely robot like. You'll understand better when you watch the video below. Its shape can be related with the BB-8 Droid character in star wars, like shown below.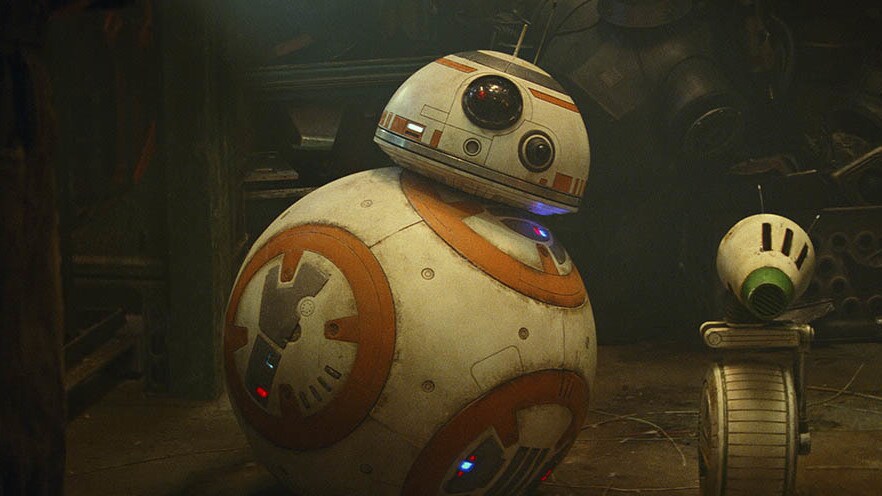 It is not surprising to see that the Korean Giant is entering into the robotics and Artificial Intelligence area, as Samsung had showcased three types of different robots at the same time last year. Those three robots were BOT Retail, Bot care and Bot Air as shown in the image below (left to right respectively) . According to Samsung, Bot Retail is used for giving you directions to places, getting your food on the table at restaurants, accepting wireless payments through NFC function and much more. The Bot care is supposed to be your robot which is to be used at home and as Samsung stated, will be the robot for the elderly as, it helps in measuring your heart rate via a finger scan, reminds you to complete your tasks or even reminds you to take your medicines. The Bot air, as you might have guessed it, is an air purifier which keeps on moving around the house and its main function is to keep the air clean by purifying it. The funny thing about this bot is, that its eyes turn fiery red from white when it is working. Pretty Impressive, aren't they? This year, samsung took an interesting turn in this field and thats what they have showcased with Ballie. Find out below what all does Ballie do?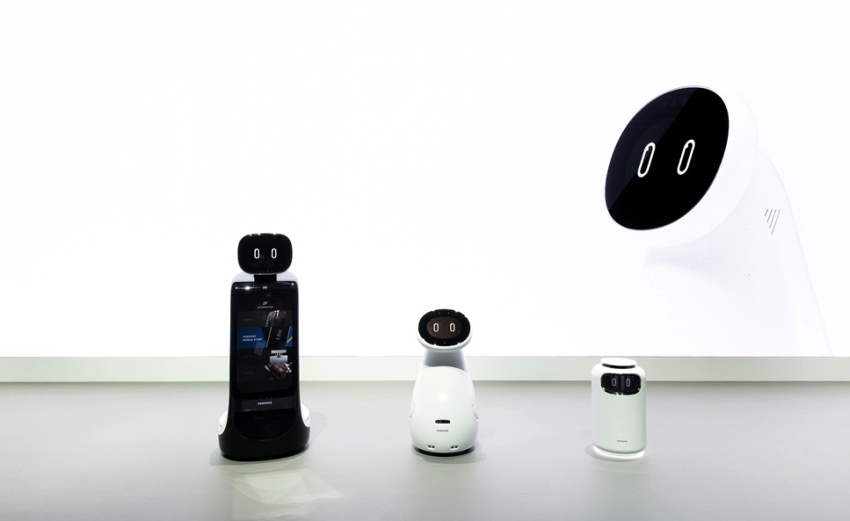 Source for this image – www.news.samsung.com
What All Can Ballie do?
Ballie is more like your friend rather than just a robot, It is stated by Mr Hyunsunk that ballie will support you, your family members and even your pets. Ballie is supposed to perform the role of your fitness assistant as you will see in the video below how it projects the back of the person while she is exercising. For any smart devices at home, ballie will perform the function of a remote control. In the video below it showcases the command given by ballie to the smart Vaccum cleaner, to the curtains and also the Television. It will record the events happening at your home while you're away and send you a notification about it, as shown in the video when it recognises the pet dog, records the scenario and sends a notification to the owner. Thus in times of emergency, Ballie can easily notify you. Also, an interesting feature as discussed By Mr Kim is that Ballie will help you by giving you a wake up call. How will that happen? Samsung made no comments on that but that is a feature which is going to be present in it. Ballie is going to follow you around all the time but will maintain a particular distance from you while doing that, approximately 4-5 feet which we have guessed from the video. You can command it not to follow you, and it won't follow you after that. It is stated by Samsung that Ballie, will help in checking the tasks which you have for the day ,after, it sees you physically doing it. This will help in making your life a little bit more efficient and easy. Again, there were no comments made by Samsung related to how this will happen but we're guessing it will be connected through your phone. You'll be able to get a better understanding of how Ballie will respond to you after you watch the video below. You'll observe, the voice of Ballie is very joyful. It is a robot in the end, but thats not how we humans will feel when we are communicating with it, thats what Mr. Hyunsunk had to say about it.
At this time samsung is actually competing with Facebook, google and amazon who are also focusing towards establishing household items which have an in built camera in them and can perform almost same or related functions as Ballie. What samsung wants is that, their customers should use products and use artificial intelligence which can be trusted and that is why they are putting a lot of efforts in Ballie.
THE ROAD AHEAD
Even though after the video it might seem that the project is completed and Ballie will soon be rolling around in every household monitoring children, seniors or following you around, there are no concrete plans regarding when Ballie will be Available in the market and how much will it cost? The company on the launch date made no comments on the same. One of the main reasons being that Samsung still has to work on its software in Ballie because even though the functions performed by Ballie in the video seem to be perfect and up to mark, they are not as accurate at the moment like we might imagine it to be or if we imagine it on a commercial level. Like, for example Ballie doesn't respond to Samsungs already existing Artificial Intelligence Devices, which is a problem for Samsung at the moment.
The second reason is that many analysts have stated that many customers will not be able to trust this device due to privacy reasons to which Samsung answered, Ballie will adhere to privacy and data protection standards and they won't share the data with third party companies without the consent from its users. Some argued that what if we have to climb up the stairs, and they were right, Ballie isn't functioned to do that at the moment. It can follow you around on one single floor and thats it. Some also stated that if its shape is like a tennis ball wouldn't your pet want to play with it and ultimately destroy it? The material is durable but not that durable because in the end they are still using high grade quality plastic on Ballie which is easier for dogs to chew on. The third reason is that samsung is also currently working on its hardware at the moment and what it has showcased on the launch day is just the prototype and it is not yet final and it is still in works. Ballie uses a single camera to record and analyse everything in the surroundings but it currently lacks the ability to store the data for everything happening in those particular surroundings, which is a problem as per now.
Artificial Intelligence will become a part of our daily life. It is coming in our lives, but we are experiencing that at a slow pace. These things take time. Samsung is working really hard on Ballie, thats what the employees at Samsung have stated. They want this to be a reality and If you imagine it, It will be fun having a tennis ball shaped robot following you around, listening to your commands and keeping a check on your family members and home when you're away. They have to make Ballie in such a way that it can interact with every single person, the way they want to and would like to. So that the needs of every single person can be met. Its a combination of 5G and Artificial Intelligence and thats why this will take some time. Samsung has made no statements regarding what is the plan for Ballie now. Some even wonder if Samsung will continue the production for this Robotic companion but so much hard work is being put into it, we definitely want to see Ballie in the market and in the households too. It is a different and an innovative invention. Some might call it waste, some might call it interesting but we have to wait in the end to see what Lies ahead for Ballie.
Source for this Image- www.marketwatch.com